To you offer a better service, we prefer the phone contact that will assure you a personalized choice as well as an option of booking.
According to the periods of school vacations, you can rent rooms/ studios for one night or week, with breakfast.
The apartments for several nights in off season: for more days or shifted week is also accepted ex: from Tuesday to Tuesday or a week plus a few days.
All rooms are equipped with electric refrigerator, oven or mini-oven, electric range, coffee machine, toaster, pots and pans and adapted crockery.
Sheets are provided, a domestic iron and a vacuum cleaner are at your disposal.
In each room you will find a radio or a clock radio and a television will be put at your disposal a baby bed on request.
We accept small pets, if they are nice and if dogs do not bark.
We live in an contiguous house and we will inform you about all the tourist, gastronomical and vinic possibilities in the area.
We can give you 3 bikes gracefully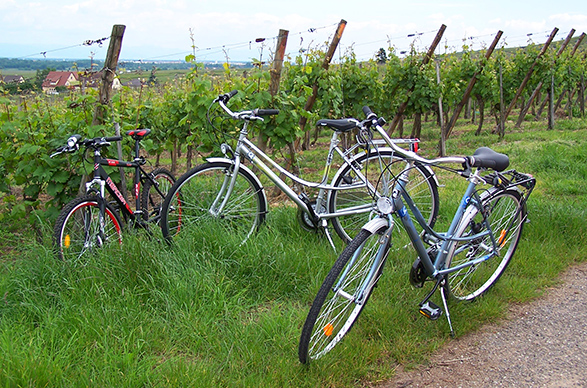 Around the house, we have beautiful small tar roads.
At the bottom of the village, all is flat, In the village, it is hilly, and over the village, there are km of hills and descents by the forest roads.
We have at your disposal
- 2 bicycles and - 1 mountain bike
- To see the circuit dish "nature"
- Possible rent of the other bikes in near www.bikeair.fr

The seasonal decorations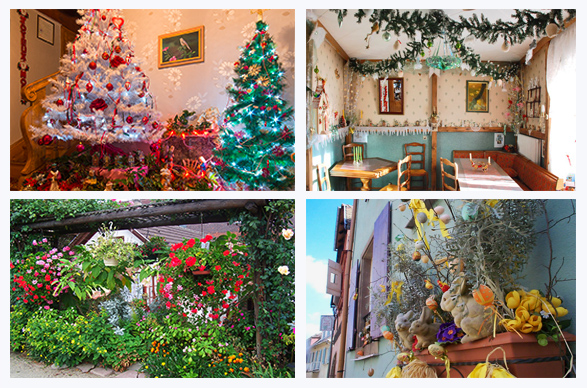 For Christmas, the whole house is decorated
with many Christmas trees, and floodlit at night.
For Easter, a rich decoration
inside and outside as well.
Of May at the end of October, flowers adorn houses, courts and gardens.